Components
PharmBiologic Solutions is your source for Sanitary Valves and Sanitary Y-Strainers.

Download PDF
Sample and Vent Valves
The Sample and Vent valves for stainless steel filter housings are engineered for cleanliness and ease of use.
The valves are constructed of 316L stainless steel for excellent resistance to corrosive chemicals and to ensure product purity.
They are machined to a <25ra finish.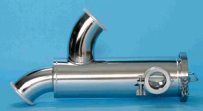 Download PDF
Sanitary Y-Strainer
The High Purity Stainless Steel Vent housing is constructed of 316L stainless steel. They are engineered for the biopharmaceutical industry along with other high purity applications for use in venting of large and small tanks. The filter housing comes in 10" to 40" sizes to meet the needs of your application.
The cartridge filter housing is a clean, easy way to provide filtered air into tanks as well as allowing gases to flow out.